What is a Social Business?
"Social Business" is a term coined by Nobel Peace Prize laureate Professor Muhammed Yunus in his two bestseller books-"Creating a World Without Poverty: Social Business and the Future of Capitalism" and "Building Social Business: The New Kind of Capitalism that Serves Humanity's Most Pressing Needs".
A social business seeks to maximize human and environmental well-being and other social concerns. For-profit-businesses focus on the maximization of profits for shareholders. However, a social business differs from a nonprofit in several ways. While non-profit organizations rely on outside funding through government and donor support, social businesses are self-reliant by investing a portion of their profits back into the business. Much like a for-profit-organization, a social business still relies on selling goods and services to the consumer, but social businesses redirect the remainder of their profits towards local communities. Social businesses offer a long term benefit to society in not just to consumers, but to society as a whole.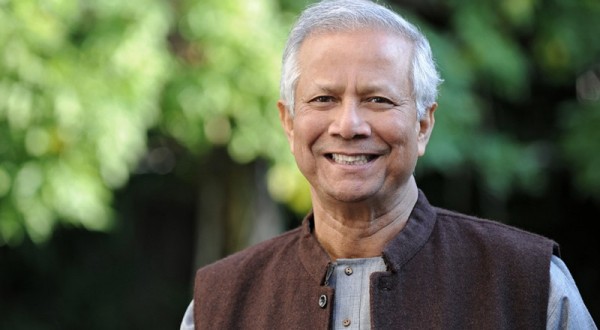 Born on June 28th, 1940 in Bangladesh, Muhammad Yunus is a banker, social entrepreneur, economist, and civil leader who was awarded the Nobel Peace Prize in 2006 for pioneering and applying the concepts of microcredit and microfinance through the bank he founded, Grameen Bank. Dr. Yunus completed his Bachelor's and Master's of Arts Degree in 1961 and obtained his Economics PhD from Vanderbilt University in 1971. He was formerly a professor of economics at Chittagong University in Bangladesh, publishing several books related to microcredit and microfinance. He has also won the Presidential Medal of Freedom, the Congressional Gold Medal, as well as 50 honorary doctorate degrees from universities over 20 countries.
Yunus Prize: 1st Social Innovation and Entrepreneurship Competition-Dr. Yunus' speech