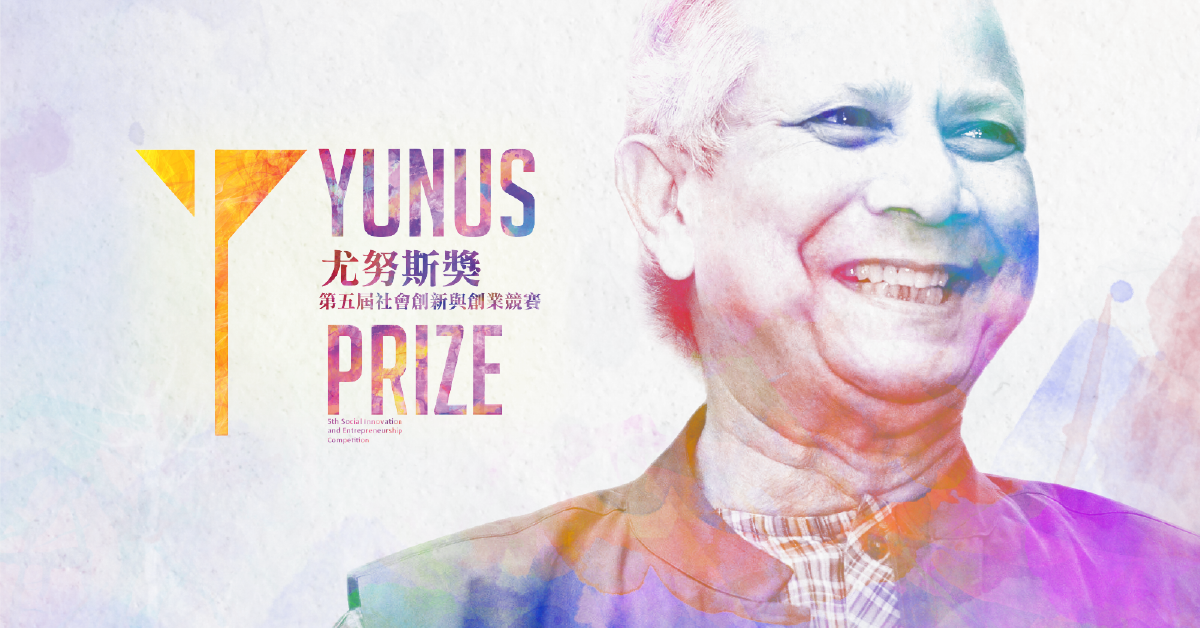 5th Yunus Prize
2020 Social Innovation and Entrepreneurship Competition
To promote Nobel Peace Prize Laureate Prof. Muhammad Yunus' vision of social business, the Yunus Social Business Centre at National Central University (YSBC@NCU) has been hosting "Yunus Prize: Social Innovation and Entrepreneurship Competition" in Taiwan since 2016.
---
Are you ready for the challenge?
–
🏃‍♂【

Competition Information

】
     Who can attend the competition?
Yunus Prize is a team-based competition. Each team should consist of 3 to 6 members between age 15 to 45 without the limitation of nationality. Each person could only attend one team. The legal status of participating team could not be company.

Duplicated Projects submitted by previous winning teams of the Yunus Prize are not eligible for the contest.
🎯

APPLY NOW
 Please go to the following link to complete the application form and upload the attachments: https://forms.gle/yuB97mAbh6aMcstT7
Submission Deadline: September 7th 23:59 (GMT+8)
---
⚡

【

Important Dates

】
July to August :




Ten courses for Social Business Entrepreneurs




Three Carrefour Workshops: Food & Agriculture Innovation & SDG 12

September 7th 23:59 (GMT+8): Application Deadline.

September 15th: Finalist Teams Announcement

September 26th: Final Contest

October: Social Business Design Lab- Finalist Teams ONLY

November 21st: Demo Day
---
🏆

【

Awards

】
Champion (1 team)


Scholarship- NT$70,000 (per team)




Medal (per team)




Certificate of merit (per team)

The Second Place (1 team)


Scholarship- NT$40,000 (per team)




Medal (per team)




Certificate of merit (per team)

The Third Place (1 team)


Scholarship- NT$20,000 (per team)




Medal (per team)




Certificate of merit (per team)

Outstanding Award (7 teams)
Scholarship- NT$10,000 (per team)


Medal (per team)




Certificate of merit (per team)

Carrefour Food & Agriculture Innovation Special Award (1 team)
Scholarship- NT$30,000 (per team)


Medal (per team)




Certificate of merit (per team)
---
🤜🤛【

Competition Organizer

】
Consulting Unit: Yunus Centre、National Central University

Organizer: Yunus Social Business Centre at National Central University

Sponsor of "Food & Agriculture Innovation Special Award":Carrefour Taiwan

Media Partner: UDN Advocacy

Co-Organizer: makesense, Social Value International, Social Value Taiwan, Taiwan NPO Self-Regulation Alliance, Social Innovation Lab, Impact Hub Taipei, Dharma Drum Institute of Liberal Arts, Taichung Social Innovation Unit
---
【

Contact Us

】
🌵

Phone: +886-3-4227151 Ext. 26010 or 66621
🌵

Email: yunus.sbc@g.ncu.edu.tw